Pedobear is a child molester of a bear who lives in the CD-I Rangers universe.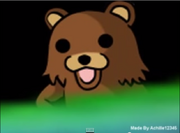 His first (and currently only) appearance was in CD-I Rangers vs Weegee, where he popped out for a brief moment to then change into his RAPIST MODE to scare Weegee out of his ultimate form. His normal power level is 666, referring to the devil, and his Rapist Mode's power level is 6, 666, 666, 666, 666 (6.666666666666 trillion).
Ad blocker interference detected!
Wikia is a free-to-use site that makes money from advertising. We have a modified experience for viewers using ad blockers

Wikia is not accessible if you've made further modifications. Remove the custom ad blocker rule(s) and the page will load as expected.