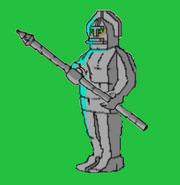 Armos are stone statues that appear in almost every single game from the Legend of Zelda series, except Zelda II: The Adventure of Link. Their appearance and weaknesses vary between games.
In Achille12345's videos, Armos are generic spear-wielding soldiers who fight in Ganon's army. They are slow, but are resistant to bullets, which can be seen in CD-I Super Guns Fight.
The average skill level of Armos is equal to 55/150 (Good).
Gallery
Ad blocker interference detected!
Wikia is a free-to-use site that makes money from advertising. We have a modified experience for viewers using ad blockers

Wikia is not accessible if you've made further modifications. Remove the custom ad blocker rule(s) and the page will load as expected.